Recently, I stumbled upon a video on tumblr for an amazing new animated series called Cannon Busters. The series was created by seasoned animator LeSean Thomas. As an anime-lover and woman of color aspiring to work in the animation industry, I was overcome with excitement. A Japanese influenced show featuring a female protagonist developed by an African American animator? It almost felt like Cannon Busters was made for me!  I wanted to watch it immediately. Unfortunately, the show doesn't actually exist…yet. The video I watched was part of a campaign to develop a pilot episode for the series.
The beauty of crowd funding websites like Kickstarter or Indiegogo is that the people get to tell the producers what they want. I think most of us can agree we would like to see more complex female characters, more LGBTQIA+ representations, and characters of color in our media. Despite the wide array of television channels that are available to us, representation of marginalized groups is severely lacking. Part of the reason why is because the majority of people creating our media still remains overwhelmingly white, male, and house a whole other bunch of privileges that are already well represented in media. Lack of diversity also exists in video games, comics, books, and so on. It's not that white men cannot write about people of color and women, but we have a large percentage of voices being left out.
When criticizing mainstream media for not being inclusive enough I'm sure we have all heard something similar to "If you don't like the way [women, LGBTQIA+, people of color, etc.] are portrayed in music, movie, comic book, etc. then go make you own." This argument is completely faulty and based in logical fallacy, but the fortunate thing is that creating our own game, movie or show isn't as impossible as it used to be. Now we give more people a chance with ideas that wouldn't have made it mainstream.
This is how crowd funding is changing the world and changing our media. Someday the mainstream media producers won't be able to keep giving us offensive or shallow reality television programming and tell us "we are just giving the people what they want." When we donate to projects on crowd funding websites, we are literally showing them what we want. Having a crowd funded method won't make a project inherently un-problematic, but it does mean we get more variety in what gets developed and the creators have more independent control over their content.
So to give you an idea of what crowdfunding can do, here are 11 successful crowd funded campaigns that promote diversity, we can't wait to see the final product!
Medium: Animation
Website: Kickstarter
Urbance is a French animated series created by Joel Dos Reis Viegas and Sébastien Larroudé. It's a modern Romeo and Juliet story with a hip hop twist. Besides eye-catching visuals and a dynamic musical score, Urbance also has black protagonists and complex female characters. In fact the success of Urbance's Kickstarter was part of what inspired Thomas to fund Cannon Busters this way. I've been following Urbance for a few years now, and the creators were struggling with getting the idea picked up by a studio. I thought it was going to remain in "development hell" for years. Had the series been developed before online crowd funding existed, most likely that's what would've happened. Thankfully this wasn't the case, and Urbance was funded on November 6th 2014, making $ 229,300 CAD of its $189,000 CAD goal.
Medium: Doll and App
Website: Indiegogo
There are not enough strong, intelligent role models for young girls in the media. Miss Possible seeks to be a part of changing this. Miss Possible is a line of dolls created by engineers Supriya Hobbs and Janna Eaves that each come with their app. There is a Marie Curie doll that comes with an app teaching children about chemistry and Marie Curie's life. Kids can learn about historical female figures and have fun doing it! Miss Possible raised $85,755 of its $75,000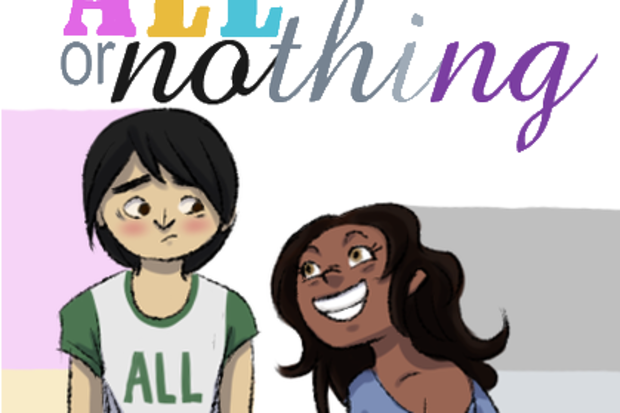 Medium: Web series
Website: Indiegogo
All or Nothing is an upcoming web series that acknowledges the little representation LGBTQIA+ characters have in the media; especially pansexual and asexual characters. The show will be a sitcom about two roommates who identify as pansexual and asexual. It made $5,899 of its $600 goal and ended on August 15th 2014.
Medium: Magazine
Website: Kickstarter
Parallel Magazine describes itself as unashamedly feminist. Most women magazines sell themselves as 'female empowering' but end up being about losing weight and pleasing men. We see sexualized women on the covers of male and female targeted magazines, and rarely anything beyond the gender binary. Parallel Magazine seeks to break the mold and bring us content that is inclusive and feminist. The magazine was funded on November 5th 2014, making £6,497 of its £6,000 goal.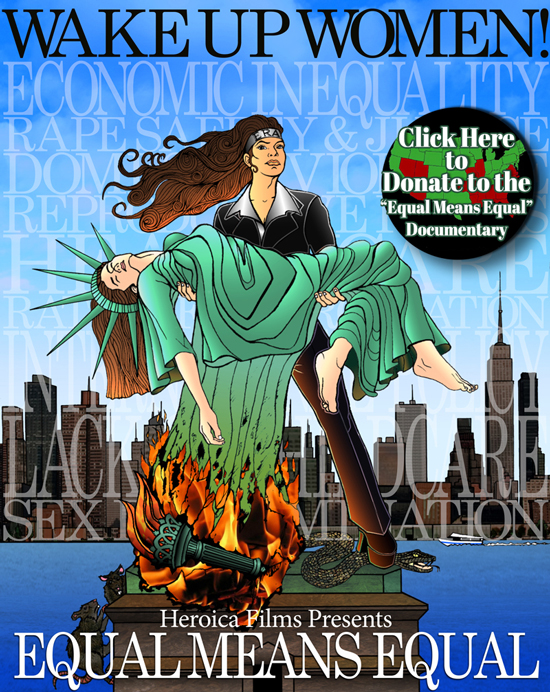 Medium: Documentary
Website: Kickstarter
Equal Means Equal is a documentary, created by a woman of color, exploring women's rights under the law. Kamala Lopez is an award winning filmmaker who has been creating independent media for close to 20 years. Lopez's documentary looks thought-provoking with an added touch of humor. Equal Means Equal raised $136,933 of its $87,011 goal on October 21, 2013.
Medium: Comic
Website: Kickstarter
Valor is a comic anthology put together by artists from various backgrounds, many who are women. The stories within are based on both classic and original fairytales and aim to feature strong female heroines. Valor raised $109,965 of its $20,000 goal and was funded on August 30th, 2014.
Medium: Organization
Website: Indiegogo
Starting out as a hashtag campaign, #WeNeedDiverseBooks has grown into a "grassroots organization dedicated to advocating and supporting non-majority narratives." The aim of the organization is too promote more representation of women, people of color, LGBTQIA+, and people with disabilities in literature. The money from the Kickstarter went to everything from supporting diverse authors to developing educational kits that will aid teachers in selecting diverse books. The campaign completed on December 10th, 2014 raising $181,676 of its $100,000 goal.
Medium: Animation
Website: Kickstarter
African Americans are underrepresented in animation, both on screen and behind the scenes and rarely do we get a series where the creator director and writer is a man of color. The aforementioned show is one that I'm really excited for. This beautifully animated series is based on LeSean Thomas' own comic book. This isn't the first time Thomas has worked on shows with a diverse cast of characters. He's was a character designer on "The Legend of Korra" and the co-director of the first season of "The Boondocks". "Cannon Busters" was funded on December 3rd 2014 making $156,535 of its $120,000 goal.
——
Support independent media. Support creators of color. Support LGBTQIA+ creators. Support women who create. Support people who feel marginalized achieve their dreams, and help make our media more inclusive for everyone.
Cannon Busters does feel like it was made for me, and in a way, it was. Now all that's left to do is wait till it finally airs!
Have a thought about this piece? We encourage your civil communication with our writers. Tweet us at @fembotmag or reach out to us on our Facebook page.
(Visited 249 times, 1 visits today)