Earlier this week, Target pledged in an online statement to leave gender-based signage in their stores behind. Besides clothing, departments such as bedding and toys will soon start to reflect gender neutrality.
As stated in Target's corporate announcement, signage for "boys" or "girls" will change to "kids," and gender-based color-coding on shelves will end.
While this is a progressive step towards a gender neutral society, Target has been the center of gender marketing critique before. Just last month, Target refused to stop selling a sexist top despite an online petition with over 17,000 signatures demanding the store get rid of the shirt. The shirt dons the word "TROPHY" in large white letters across the chest and is available in the women and junior sections.
Another uproar was inspired by two pairs of children's footsie Superman pajamas available in Target and Wal-Mart: one pink with the words "I Only Date Heroes" and one gray with the words "Future Man of Steel." Not only is this extremely condescending to young girls and women everywhere, but it shows that as a society we don't just objectify grown women, but pre-developed children too.

Target also received some heat after a mother tweeted a photo of problematic aisle signs, identifying the toys within as "Building Sets" and "Girls' Building Sets."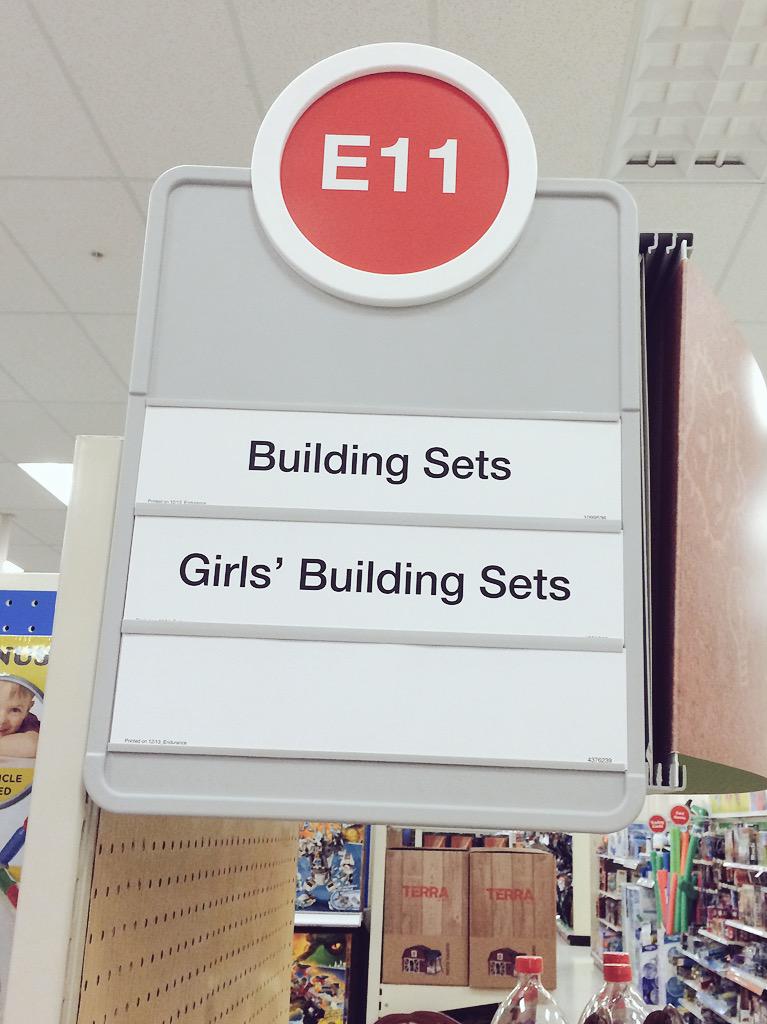 Signs such as these not only limit children by trying to narrow and specify what they're permitted to enjoy and experience, but it also intimidates those who want to defy gender norms. A girl who wants to play with an action figure cannot do so without feeling she's invading boy territory, much like a boy can't play with a doll without experiencing the same. Many parents also become intimidated by their children playing with exclusivley "girl" or "boy" toys, which can lead to tension within the household. When a parent takes a toy away from a child, because it "isn't for their gender," the child feels punished for simply being who they are, and their self-esteem (and sometimes their relationship with the parent) will suffer as a result.

Gender-based advertising also provides a foundation for bullying. Carrie Goldman of Chicago Now writes that her daughter endured taunting from boys for carrying a Star Wars water bottle. Corporations that enforce gender norms enable this bullying to continue, and validate it as acceptable. Not only does this enforce gender stereotypes, but it also re-enforces the idea of gender binary; completely ignoring the spectrum that is gender, and acting like there are only two ways to demonstrate a child's "one of two" genders.

Thankfully, it seems Target has responded and listened to many customer complaints regarding issues of gender. Following in the footsteps of Wal-Mart Stores and Toys R Us Inc., Target is becoming part of the gender neutrality movement.
Some Target customers weren't impressed or happy with the decision, claiming that removing gender-based signage will make finding things at Target more difficult and the store's decision is simply a bow to extreme political correctness. Behind this thinly veiled set of excuses, lays the undeniable truth that external and internal misogyny is very deeply engrained in society's mind, so much so that looking at gender in any other way than traditionally (aka objectifying, oppressive, and patronizing) terrifies us.

Despite the backlash, Target's move will hopefully stand as an example to other stores. In a world where toy advertising is more segregated by gender now than it was in the 1950s, large corporations like Target need to take a stand for widespread change to happen.
Have a thought about this piece? We encourage your civil communication with our writers. Tweet us at @fembotmag or reach out to us on our Facebook page.
(Visited 148 times, 1 visits today)